Griswold Releases New 811SP Series Self-Priming Centrifugal Pumps
The 811SP Series extends Griswold's portfolio of chemical process centrifugal pumps into self-priming applications. The pumps are designed to leverage common components with the Griswold 811 ANSI Series and offer pump and part interchangeability with competitor models.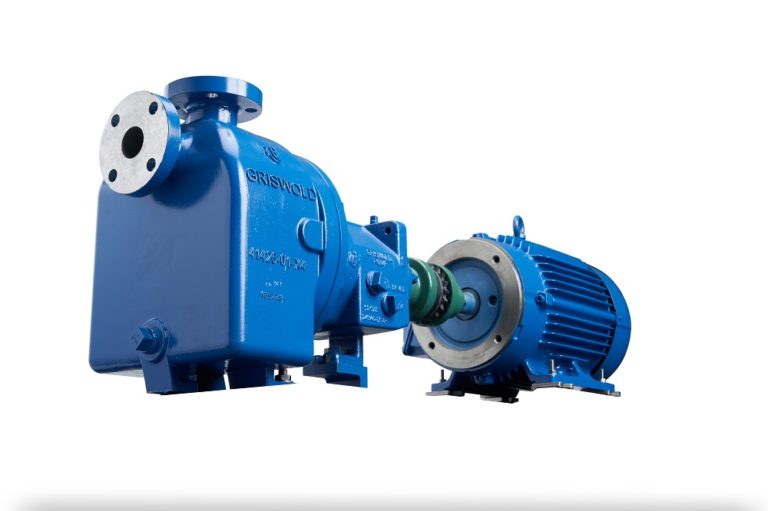 Griswold, part of PSG, a Dover company, announces the availability of its new 811SP Series Self-Priming Centrifugal Pumps. (Image source: Griswold/PSG)
This allows the 811SP Series to be installed in thousands of applications worldwide, providing users with exceptional performance and maximum flexibility under the harshest and most difficult fluid-processing applications.
Available in a wide range of sizes, capacities and materials to fit virtually any application, the Griswold 811SP Series offers:
Ductile iron frame adapters to increase durability and safety
Maximized oil capacity for improved heat transfer to extend bearing life
External clearance adjustment to maintain original flow, pressure and efficiency
Heavy-duty shafts and bearings to minimize vibration and shaft deflection
Oversized sight glass for quick and easy monitoring of oil level and condition
Magnetic drain plug to collect contaminants and protect the pump
Fully open impeller for better handling of solids and abrasives
Extensive sealing options to maximize uptime
Backed by Griswold's 70 years of experience, the Griswold 811SP Series is designed to meet ASME specifications and provide superior handling of corrosives and abrasives. The 811SP Series is available in eight different sizes with flow rates up to 1,300 gpm (295 m³/hr) with the ability to operate in temperatures up to 500ºF (260ºC). Their open impeller and seal chambers facilitate enhanced corrosive and erosive substance transport, heat regulation and faster routine main¬tenance. Utilizing precision power frames and rigid baseplates, the Griswold 811SP Series also effectively minimizes the effects of work forces and shaft deflection while optimizing cooling and simplifying installation.