Green as Always, Now With ISO 14001 Certification
For over 60 years, CAPRARI has been doing its best to optimize the delicate balance between technological progress and the ecosystem.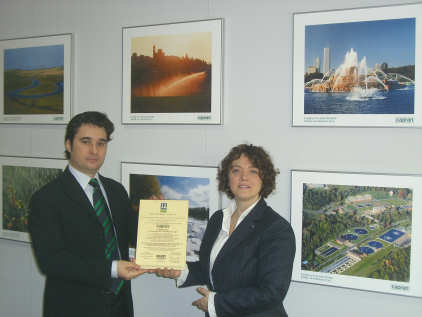 Caprari
Caprari's mission in the world of water began during the years in which agriculture and water distribution systems in general developed and is now particularly focused to the water industry and water treatment systems.
It's not by chance that Caprari's main color, the shade chosen from the very beginning for various different product lines, is GREEN, testifying to the company's very close link with the environment and the way its products and services have been perfectly integrated with it.
Caprari GREEN since ever then, present in Europe and the World with a wide range of products and services that with the corporate color bring a deep significance: man, the environment and sustainable development.
The target of the Caprari Group has always been to safeguard the environment for future generations. This is why the Group is committed towards doing all it can to avoid the more significant impacts on the environment deriving from its business activities and use of its products.
More specifically, Caprari's policy is to optimize the consumption of natural and energy resources, to use substances with a low impact on the environment, to control atmospheric pollution, of the soil and sub-soil and to deal with waste in the best possible way.
Thanks to training and widespread informational campaigns, Caprari helps and supports its staff members, as well as the partnerships with suppliers and customers, to achieve a growing "environmental awareness".
The new Environmental Management System adopted by Caprari has been developed and certified in accordance with the requirements established by international standard ISO 14001: 2004 and has been organized by applying the same strict method already used for the tried-and-tested Quality Management System, certified according to ISO 9001:2000 standards. It is therefore based on a dynamic scheme of interconnected flows that allow the principal processes to be analyzed and the more significant aspects to be handled with the utmost control.
The ultimate target is to develop people's awareness and to optimize every process in the company from the point of view of ecology, obtaining synergies within and outside the company and improving the overall efficiency.
About Caprari
The Caprari Group is one of the most reputed enterprises on the international scene when it comes to manufacturing pumps and centrifugal electric pumps, or creating advanced solutions for managing the integrated water cycle.
Thanks to its exclusive and diversified know-how, Caprari offers the most advanced and efficient solutions for the main water supply requirements: from extraction in deep wells to the lifting of waste and drainage waters, supplying and distributing water in residential, industrial and agricultural sectors to the most varied water treatment applications.