Godwin Pumps Launches bauma Website
Godwin Pumps announced the launch of a new website, dedicated to its participation at bauma 2010 in Hall A6, Stand 406 at the New Munich Trade Fair Centre in Munich, Germany April 19 – 25.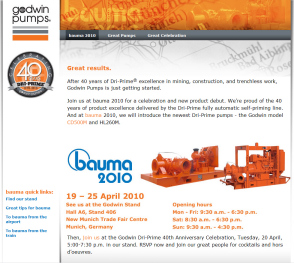 Godwin Pumps
Located at www.godwinpumps.com/bauma or from Godwin's homepage at www.godwinpumps.com, Godwin's bauma site invites show attendees to visit the Godwin Pumps stand, where it will debut two new pumps for the international market: the model HL260M 10-inch x 8-inch (250 mm x 200 mm) single-stage automatic priming centrifugal Dri-Prime pump for high heads and the model CD500M 24-inch x 18-inch (600 x 400 mm) automatic priming centrifugal Dri-Prime pump for high flows.
Godwin Pumps also invites show attendees to celebrate the 40th Anniversary of its Dri-Prime product at its bauma stand on Tuesday, April 20.
"This is the world's largest construction equipment event, and we are dedicated to helping our customers and prospects find us quickly," said Godwin Pumps Marketing Manager, Bryan Gassler. "Our goal for this site was to provide information about our show activities including international product launches and our Dri-Prime 40th Anniversary Celebration."
Godwin Pumps, Dri-Prime, Sub-Prime, Heidra, the phrase Think Orange. Think Godwin. Great Pumps. Great People., and the color orange for pumps are registered trademarks and DBS and PrimeGuard are trademarks of Godwin Pumps of America, Inc. All other marks belong to their respective holders.