GIW Rubber Lined Pump Uses Modern Hydraulics
The new heavy-duty LSR rubber lined slurry pump uses the most modern hydraulic design technology and holds its excellent original operating efficiency.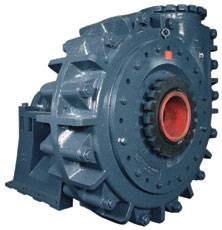 GIW LSR pump
The rugged LSR slurry pumps are designed and constructed to excel in heavy-duty mill circuit, fine grind slurries and other abrasive applications. However, GIW Industries didn't start from scratch when they developed their new LSR line. The design was based on a true performer – the GIW LSA S pump line. The new hydraulics in the LSR uses the latest technology that has been tried and tested on the LSA S range of pumps. Great hydraulic efficiency isn't the only thing that differentiates this pump from other rubber pumps. The rubber used in the liner is engineered and produced by the best rubber designer in the world - LINATEX®. For more than 75 years, Linatex® has pioneered the use of natural latex rubber in demanding industrial environments. Other special features in the LSR include: Thick cross-sectioned wear parts; bearings selected for 100,000 hour L-10 bearing life, a ductile iron bearing housing fitted with Inpro® labyrinth bearing seals; and a ductile iron pedestal. But wait, there's more - the cartridge bearing assembly is designed for easy installation and removal. Bearing housing lubrication can be grease or oil depending on the operating speed and loading conditions. With flow capacities up to 40,000 GPM and heads up to 200 feet, the LSR provides the lowest Total Cost of Ownership.
The LSR slurry pump has been tested in GIW's hydraulic laboratory, one of the most sophisticated labs of its kind in the world, and at several customer field sites. The pump has been well received by test participants, who found that the pump delivered a high level of performance in various applications across a range of industries.
With the addition of the LSR pump, GIW can virtually offer a solution for all slurry pumping needs. GIW is always designing cost effective solutions for the most severe pumping needs. Rubber pumps are particularly effective in fine particle copper, iron ore, gold and oil sands applications. In many of these services, rubber liners usually wear much longer than any metal.
GIW is highly regarded in the metal pump market and their expertise is now available in a heavy-duty rubber pump.