GEA Presents Eco-Friendly Manure Management Solution with Strategic Partner N2 Applied
GEA has entered into a long-term, exclusive strategic partnership with N2 Applied, an international agricultural technology company based in Norway. This partnership provides for the manufacture and global distribution of the manure processing solution for dairy farms.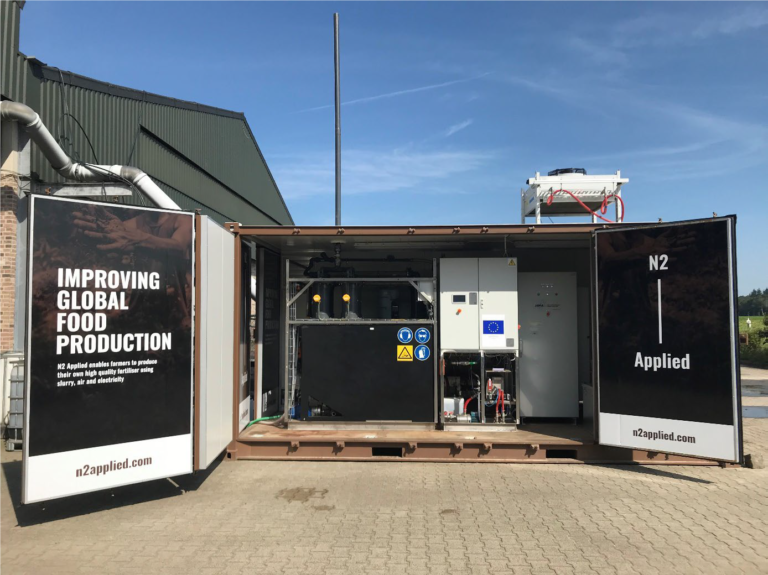 The slurry processing solution is housed in a 20-foot container. It adds nitrogen from the air to the slurry and turns it into an efficient fertilizer. (Image source: N2 Applied)
The solution will help both dairy farmers and the dairy industry achieve their sustainability goals. The N2 Applied slurry processing units will be available worldwide through GEA's sales organization.
The system converts manure from livestock operations into an environmentally friendly, nitrogen-enriched fertilizer. By using plasma technology, the slurry is enriched with nitrogen from the air. At the same time, pH is lowered without the addition of chemicals, reducing 95 percent of ammonia and 99 percent of methane emissions from manure storage and application.
The end product provides farmers with a cost-effective, sustainable fertilizer that increases average crop yields by up to 40 percent. Another benefit is that the process eliminates the typical odor of manure. Built into a 20-foot container, the system operates automatically, can be monitored remotely and integrates easily with the farm's existing infrastructure. Overall, the solution promotes a circular economy and reduces a farm's overall greenhouse gas emissions by up to 30 percent.
"Our strategic partnership with N2 Applied is a critical addition to our GEA Farm Technologies portfolio. This innovative manure management technology is a perfect fit with our solutions for modern dairy farms," says Peter Lauwers, CEO of GEA Farm Technologies. "In line with our sustainability goals, we can now offer our customers even more targeted state-of-the-art solutions to achieve climate targets on an industrial scale."
"Joining forces with GEA puts our technology on a global stage and allows us to drive its adoption in the livestock industry much faster," says Carl Hansson, CEO of N2 Applied. "At a time when agriculture is under pressure from environmental issues and the cost of chemical fertilizers has risen sharply while supply is tight, this partnership offers a clear and compelling path to safer and more sustainable food production."
With this partnership, GEA expands its product portfolio for modern dairy farms, strengthening its leading position as a provider of solutions for sustainable agriculture. GEA will demonstrate at EuroTier 2022, the world's leading trade fair for animal husbandry and management, how farms can implement the right strategy with the help of automatic milking and feeding systems as well as manure management.
The manure processing solution is housed in a 20-foot container. It adds nitrogen from the air to the manure and turns it into an efficient fertilizer.