Friatec Presents Robust RCE Chemical Centrifugal Pump
The RCE chemical centrifugal pump from Friatec AG - Division Rheinhütte Pumpen offers a reliable and durable solution for varied and difficult pumping tasks in many areas of industry.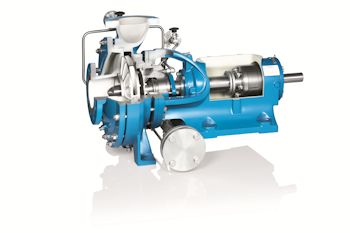 RCE chemical centrifugal pump (Image: Friatec)
The optimum pump is selected for a specific project from more than 35 sizes with different sealing variants and optional heating systems. With a hydrodynamic shaft sealing system, this design ensures that maintenance-free and wear-resistant pumping of extremely demanding fluids is achieved. A broad range of corrosion-resistant materials enables the use of the RCE for specific applications. More than 20 materials are available, ranging from low-alloy materials (cast steel) and high-alloy stainless steels to the purest of metals. The RCE covers flow rates of up to 1,300 m³/h and differential heads of up to 180 m.
Individual solutions for sophisticated pumping tasks
The RCE chemical centrifugal pump is ideal for pumping chemically aggressive, hot and contaminated fluids. This robust design can pump inorganic, organic and aggressive media with temperatures of up to 450 °C, including media containing solids, under normal and difficult operating conditions. It is primarily used to pump liquid sulphur, phosphoric acid, tar, pitch, molten urea, lye, ammonium nitrate, liquid glass, mash and cataphoretic paint.
The RCE chemical centrifugal pump impresses through its reliability and a safe and, simultaneously, robust and durable design with a variety of sealing variants. The horizontal RCE series has proven itself for decades in the chemical industry and also the raw materials industry where it is primarily used in fertiliser production. It is also the first choice in environmental engineering and many other industrial areas.
Maximum safety with sealing concepts for specific applications
The RCE chemical centrifugal pump is adapted to individual pumping tasks through sealing concepts developed for specific applications. In addition to the mechanical seal option, the hydrodynamic shaft sealing system makes it ideal for pumping particularly demanding media which, for example, have a strong tendency to stick together or crystallise. This maintenance-free sealing variant functions contact-free, has no wear parts and seals the pump completely against leaks during operation. A liquid ring seal configures itself in the auxiliary impeller while the pump is operating, separating the interior of the pump from the atmosphere and preventing leaks. Following deactivation of the pump, a stationary sealing system takes over this function, sealing the shaft passage to the outside. A simple stuffing box packing, a pneumatic system or a mechanically controlled ring valve can be selected, depending on the application involved. The hydrodynamic shaft sealing system is mainly suitable for use in continuous operation.
Heated design for constant temperatures
The RCE chemical pump with heating chamber systems (H design) can be adapted for pumping tasks in which the medium must be maintained at a constant temperature. The casing drain system, drain and stuffing box chamber of this pump are completely heated. This permits use of the RCE for particularly demanding applications such as pumping molten sulphur. It has the advantage of ensuring that no sulphur residue solidifies and forms deposits in the shaft seal chamber during pump start-up and shutdown.