Fraunhofer Introduces New USA Management Team
Fraunhofer-Gesellschaft, Europe's premier research and development organization, is celebrating the 20th Anniversary of its U.S. subsidiary – its largest outside of Germany. As part of the celebration, Fraunhofer will be introducing its new Fraunhofer USA management team, while highlighting its focus over the next 20 years in terms of fostering innovation through international collaboration.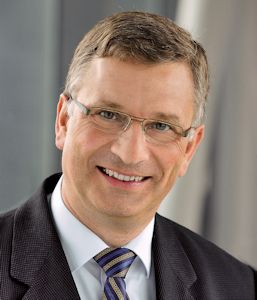 Frank Treppe is the new president of Fraunhofer USA (Image: Fraunhofer)
It has seven Centers and two marketing offices with 180 highly qualified staff members and total revenues of $39 million last year alone. The US subsidiary of Fraunhofer-Gesellschaft has developed splendidly. "We have reason to be proud," explains Frank Treppe, new President of Fraunhofer USA at the anniversary celebration in Boston, Massachusetts. "The Centers are closely networked with excellent universities around the country and are developing customized solutions for industrial customers just like Fraunhofer Institutes in Germany."
The new management team is looking forward to building on the successful positioning that the company has already achieved. The Boston site will play a pivotal role in this expansion. The Fraunhofer Center for Sustainable Energy Systems' CSE Building Technology Laboratory recently moved into the building on the harbor – meant to also become a meeting place and center for innovations where conferences, exhibitions, workshops, and events can take place. "This will be a place not just for presenting and discussing new technologies, but also for making new contacts," explains physicist Dr. Patrick Bressler, who headed the Fraunhofer office in Brussels up to now. As new Executive Vice President, he intends to create the conditions for even better collaboration between Fraunhofer institutions on both sides of the Atlantic as well as industrial partners in the USA and Europe.
"We want to recognize the significant achievements of the previous President, Dr. Georg Rosenfeld, and Executive Vice President, Dr. William Hartman, and the Fraunhofer USA staff," says Fraunhofer President Prof. Dr. Reimund Neugebauer. He adds that the future will lie in working collaboratively to achieve innovative technology solutions for society's biggest challenges. "There is enormous potential in transatlantic collaboration. If both sides pool their strengths as peers, then something completely new can result. For example, if you combine excellence in German production engineering with unsurpassed American know-how in IT, you get the foundation for industrial production of the future – intelligent, adaptable, and resource-efficient."
By employing the precepts of Industry 4.0, Fraunhofer USA is re-connecting with a field that it had its roots in 20 years ago: production engineering. Back in the era of the booming auto industry, the USA was the pre-eminent example for Germany – which was right on the home turf of the Big Three automobile manufacturers: General Motors, Ford, and Chrysler. In the vicinity of these technological giants, there were not only excellent universities but also high-tech suppliers including many European firms. The Fraunhofer Centers were established with the goal of forging a bridge between research and product development. They worked closely with universities as well as industry right from the start.
Today, Fraunhofer USA collaborates with numerous renowned institutions, including the University of Maryland, Michigan State University, University of Connecticut, University of Delaware and Boston University. Engineers jointly explore and develop not just production techniques, but also applications in materials science, medical technology, and software solutions. As well, they participate in numerous highly demanding research programs like the SunShot Initiative of the US Department of Energy, the Accelerated Manufacture of Pharmaceuticals program, and NASA's Software Assurance Research Program.
The Fraunhofer model – in which about one-third of the budget is provided through public sources and two-thirds through research contracts – has proven itself in the USA as well and is regarded there as exemplary. Frank Treppe views this as a great opportunity for the future. "The USA Centers are milestones in our internationalization strategy. We see here how commerce and science on both sides of the Atlantic benefit from the collaboration."