Energy Efficiency Labels for Pumps
Europump, European Association of Pump Manufacturers, launches an energy efficient labelling scheme. The new labelling scheme will showcase for consumers only those pumps which are the most environmentally friendly and energy efficient for heating systems.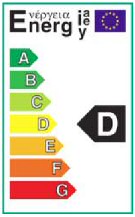 The labelling scheme consists of energy classes from A to G, where A is more efficient and G is less efficient. It is the responsibility of the manufacturer that a labelled product passes a quality test and lives up to its labelling.
The EU is already at the forefront of industrial development concerning energy savings. However, the pump industry is challenging the existing market by raising the standard of its products, thereby focusing innovation on more energy-efficient and functional pumps.
Circulator pumps are anonymous energy consumers, using up to 15 % of the electricity of an average European household. By driving the European market towards more energy-efficient circulator pumps, an average European household will be able to save up to 10 % of its total consumption of electricity.
The manufacturers of circulator pumps have agreed on a Self-Commitment with the objective of setting a higher standard in circulator pumps and in sustainable manufacturing as a whole. Europump is aiming to foster competition between circulator pump manufacturers by encouraging the development of more energy-efficient circulator pumps.
Energy efficiency is a core objective of the European Union, as part of its commitments under the Kyoto protocol. The European pump industry calls upon the EU and its Member States to create the necessary incentives that will enable energy savings and efficiency, and to support its voluntary labelling scheme applying enhanced standards and using an EU endorsed label.
"Energy consumption has become an important issue on the agenda of European consumers and businesses. In the last decade, washing machines and refrigerators have been labelled according to their energy consumption. One of the most anonymous, but largest, energy consumers in European households, the circulator pump, will now have clear and monitored energy consumption labelling which is visible and understandable for consumers. We call on the European Commission to create the necessary though adapted regulatory environment on energy efficiency to ensure that this initiative has the greatest impact in supporting the struggle for a cleaner environment", says Paolo Marinovich, President of Europump.
Commenting on the scheme, Frédérique Ries, MEP (BE, ALDE) states, "As the Rapporteur on the EcoDesign report, and someone who has worked to promote energy efficiency in the EU, I would like to commend the circulator pump industry for setting the bar higher for the future. Not only does this significantly reduce energy expenditure in Europe, and help work towards the EU`s commitments to the Kyoto Protocol, but its increases competitive innovation as well. This also has a positive effect on the consumer, as it will bring about real savings for all European households and the environment we all live in. Initiatives such as this one should be recommended and encouraged to make Europe more sustainable."