Endress+Hauser Expands Gerlingen Site
Liquid analysis technology from Endress+Hauser is used in many areas - for example, when utilities need to ensure the cleanliness of drinking water or pharmaceutical companies want to produce high-quality vaccines.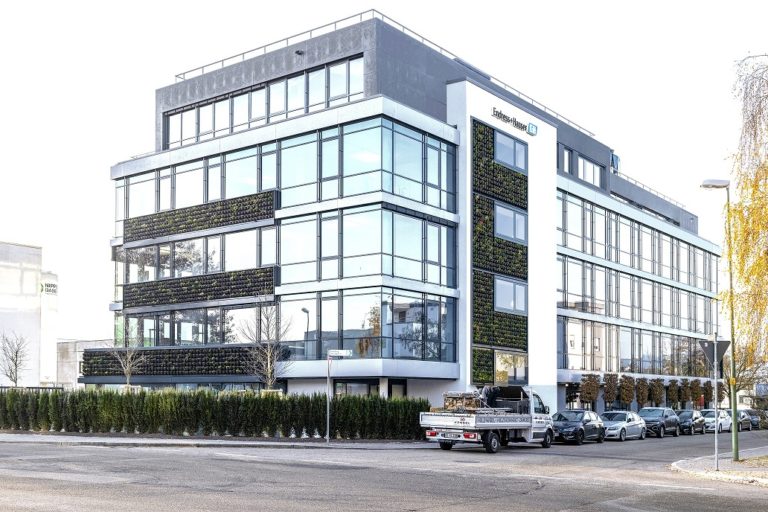 Endress+Hauser investierte rund zehn Millionen Euro in das neue moderne Gebäude in Gerlingen. (Bildquelle:
The group is a leading global supplier of measurement and automation technology for process and laboratory applications. The continuous growth is now visible in a new, attractive office building of Endress+Hauser Liquid Analysis in Gerlingen.
Endress+Hauser invested around ten million euros in the new building. It creates space for 150 employees in activity-specific furnished working environments and thus supports collaboration and innovation. The first floor houses a modern media lab for the production and transmission of webinars, explanatory videos and audiovisual media. On the top floor, with a view over the surrounding area of Gerlingen, employees and visitors will find an inspiring conference center with the latest media technology.
Together with Matthias Altendorf, CEO of the Endress+Hauser Group, Dr. h. c. Klaus Endress, President of the Supervisory Board, guests from politics and business, and employees, the new building was officially opened on Friday, July 7, 2023. As a symbol of good cooperation, Matthias Altendorf unveiled a mural by German artist Britta Schmidhauser, consisting of several colored rectangles made of fused glass, as a gift for the site. "If one rectangle were missing, the picture would not be complete," the CEO said as he presented the artwork. "This idea is very transferable to the various Endress+Hauser sites around the world and also applies to all employees."
Sustainable architecture, attractive workplaces
"With this attractive building, we are showing that it is important to us to be an attractive employer for our employees," said Dr. Manfred Jagiella, Managing Director of Endress+Hauser Liquid Analysis and member of the Executive Board of the Endress+Hauser Group. "The building shows its sustainable orientation on the outside with an automatically supplied green facade and on the inside with numerous green walls and a high-quality and functional interior design in which employees can feel very comfortable."