Edwards Wins Major Pump Order from Indian Company BHEL
22.12.2009
Leading vacuum technology company Edwards has won an order worth more than £1.5 million to supply liquid ring vacuum pump systems to Indian company Bharat Heavy Electricals Limited (BHEL).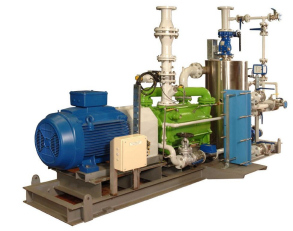 Edwards
BHEL is India's largest engineering and manufacturing enterprise in the energy-related and infrastructure sector. The company will install the Edwards pump systems at seven different power plants across India, where they will be used to evacuate air from the turbine condenser system. This ensures that the turbines remain at the required operating pressure for maximum efficiency. Several pump systems will be installed at each site.
The SHR series liquid ring pumps, which have capacities from 500 to 5000 m3h-1, comprise a two-stage vacuum pump with a spheroidal graphite impeller to improve efficiency and extend life. They have a unique ability to handle wet gases without damage to the pump, making them ideal for condenser air extraction, where the incoming non-condensable air load is saturated with steam.
The systems can operate across the complete vacuum range, from atmospheric pressure to 30 mbar, with a relatively constant pumping speed. They are also tolerant of small particles in the gas stream, have a low noise and vibration level and low maintenance requirements.
Edwards won the contract through a formal commercial and technical tender process. The company's success was due to its extensive track record in supplying similar systems to BHEL and other customers over the last four years, combined with its ability to provide both local support in India and in-depth technical expertise through its technical centres.
BHEL, which has installed equipment for over 90,000 MW of power generation in India, is one of India's nine largest public sector undertakings. The company bought some 18 pumping systems from Edwards in 2005 for its similar applications in its power station projects.
"Our pumping systems are ideally suited to this application and will integrate very effectively with the turbine condenser system in the new power plants BHEL is building," said Vikrant Sanglikar, Edwards Country Head, South Asia. "We look forward to working with the BHEL team again to install the new systems."