Edwards Supports All Vacuum Pumps With Flexible Service
Edwards, the global manufacturer of vacuum pumping equipment, has introduced a new flexible service for industrial and chemical pumps. The company can also now service any manufacturer's vacuum pumps, allowing customers to make cost savings for maintenance and repair by having all their pumps serviced in the same place.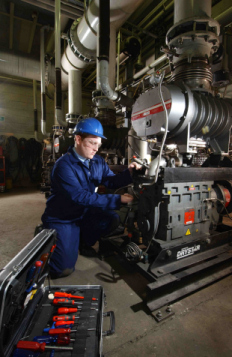 Edwards
Edwards' flexible service is available from as little as £920 for E1M40 rotary vane pumps, and customers have the potential to make a saving £700 compared to previous prices. The thorough service includes stripping and decontaminating the product, inspection of key components for signs of wear and damage, rebuilding using new seals and essential components and repainting. Each pump is then tested to the same high standards as new pumps and returned to the customer with a six-month parts and labour warranty as standard.
Edwards gives its customers a complete diagnosis of the condition of the pump and advises if any additional components are needed. Engineers also provide feedback about work that should be carried out in the near future which allows customers to make further future cost savings by carrying out work at the appropriate time.
"Customers can now benefit from our expertise and high quality repair services for all their pumps and make significant cost savings by having all their pumps serviced in one place," says Matt Shakespeare, Product Marketing Manager - Vacuum Services, Edwards.
"Our products are based on a solid foundation of manufacturing excellence and field-proven technologies, and are supported by a high quality global services network.
We take pride in looking after our customer's after-sales needs and provide a one-stop-shop for pumping requirements, from repairs, exchanges and maintenance to vacuum training courses and technical support."
Edwards' global network of service centers provides a full remanufacturing capability for a wide range of pumps and accessories, and offers a range of services for planned and unplanned maintenance. In addition to flexible service, Edwards offers service exchange and field service.
About Edwards
Edwards, whose 90th anniversary is in 2009, is a leading supplier of integrated solutions for the manufacture of microelectronics devices, including semiconductors and flat panel displays. It is also a world leader in vacuum technology for industrial, scientific, process, and R&D applications. Edwards employs around 3,000 people globally, in the design, manufacture and support of high technology vacuum equipment. Edwards invented the concept of the commercial oil-free 'dry' vacuum pump and now supplements this with a wide range of other pumping technologies as well as related products and services.