Edwards' GXS Industrial Vacuum Pump Wins Product Innovation Award
Edwards, together with its distributor in Russia, Intech Analytics JSC is proud to announce that the GXS dry screw vacuum pump won the Product Innovation Award at Vacuum TechExpo 2014 in Moscow.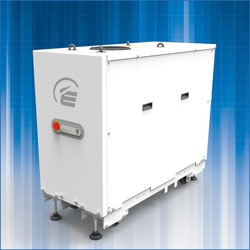 Edwards' GXS Industrial Vacuum Pump Wins Product Innovation Award (Image: Edwards)
Franck Merieux, Market Sector Manager at Edwards, commented, "We are extremely proud to receive this award together with our partners in Russia, Intech, for our innovative GXS vacuum pump. This award reflects not only on Edwards' technology leadership, but it also highlights all the hard work carried out by Intech in introducing our GXS pump to the Russian market, a key growth area for Edwards."
The GXS range, with its unique screw technology, enables users to optimise their processes with a low cost of ownership and a reduced footprint. The GXS provides robust and reliable operation even in harsh industrial applications, and has an on-board controller enabling extensive communication and automated control capabilities. The GXS has a long pump service life and is virtually maintenance free for up to five years, which together with reduced gas and power consumption make it the most economical vacuum pump for industrial applications.
"Existing customers of the GXS vacuum pump give very positive feedback about the many benefits they get from using this technology," commented Dmitry Lovtsyus, Deputy Director at Intech. We are thrilled that the GXS met the stringent criteria for this award and that the specialist judging panel at Vacuum TechExpo decided to give the Innovation Award to Edwards' GXS.