Eccentric Screw Pump for Emptying Viscous Liquids From Narrow-Necked Containers
The new eccentric screw pump Lutz HD-E-SR for emptying viscous liquids from narrow-necked containers.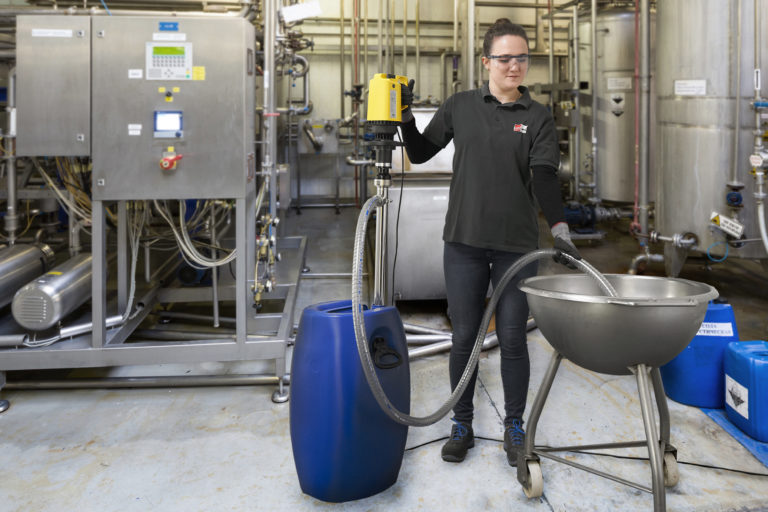 The new eccentric screw pump Lutz HD-E-SR. (Image source: Lutz Pumpen)
Viscous liquids are used in various production processes. For this purpose, they are transferred and filled from different containers. Up to now, different eccentric screw pumps with an outer tube diameter of 54 mm have been available for emptying drums and containers with their 2 inch bunghole or the corresponding container opening.
In practise, however, smaller and narrow-necked containers with different bunghole sizes are increasingly being used for transferring viscous liquids which require a smaller pipe diameter
With the new HD-E-SR eccentric screw pump, Lutz Pumpen from Wertheim rounds off its range in this respect and offers its customers a powerful pump with different electric or compressed air motors. The customer's requirements for easy and convenient operation with high pump capacities are fulfilled.
Gentle pumping action
Due to the small outer diameter of the pump tube of max. 41 mm, viscous liquids up to 30,000 mPas can also be filled from narrow-necked containers. The high speeds of the standard motors with an output of up to 1 kW are reduced by a specially developed reduction gear. The infinitely variable control of the electric and compressed air motors allows the flow rate to be adjusted and regulated.
With the new Lutz HD-E-SR pump, the user has a light and at the same time a mobile device at his disposal. The typical Lutz hand wheel connects the pump tube and the drive motor. This makes it very easy to disconnect pump tube and motor and the hand wheel also serves as a carrying handle for transport. Thus the pump can be easily lifted and moved into the containers at any time.
Wide range of application
Due to the materials used, viscous liquids such as glucose or oils can be gently filled. In the PURE version with Tri-Clamp connection, the sealing materials used are FDA-compliant.
Advantages of the Lutz HD-E-SR at a glance 
Gentle product pumping up to 30,000 mPas, at max. 6 bar operating pressure.
Lightweight and mobile. Total weight from 6 kg depending on motor
Optionally driven by electric or compressed air motors
Continuous, low-pulsation pumping of up to 17 litres/min.
Customised power
With a flow rate of 17 l/min and an operating pressure up to a maximum of 6 bar, the Lutz HDE-SR pump is optimally suited for the economical pumping thin-bodied to highly viscous liquids up to 30,000 mPas. The proven displacement principle allows a gentle, low-pulsation product treatment. This can be a great advantage with shear-sensitive fluids and liquids containing solids.
Versatile and variable
The small immersion tube diameter of 41 mm and the immersion depth of 1000 mm ensure that especially smaller containers with a narrow-necked opening can be emptied safely and almost completely from above. Matching accessories make the pump a useful aid in production and ensure long-lasting use.