EBARA Joines "Initiative for Development of New Wastewater Pumps"
The EBARA Corporation has signed the "Basic Agreement for Joint Implementation of Proof of Concept for Mass-Product Type Wastewater Pumps" at a signing ceremony held at the Ministry of Land, Infrastructure, Transport and Tourism (MLIT) on April 19, 2021.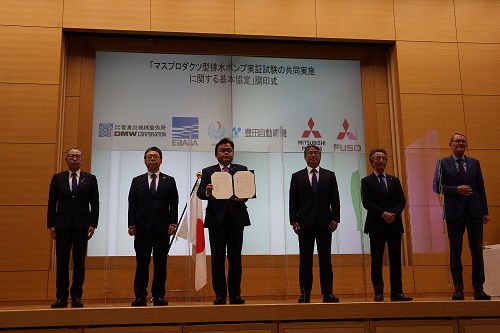 Representatives of each company. (Image source: EBARA Corporation)
The main members of the joint implementation of mass-production type wastewater pump demonstrations are the MLIT, two pump manufacturers and three motor manufacturers. In the joint initiative, participants will deliberate on constructive ideas that will lead to advanced technologies and products. Through the initiative, EBARA will contribute to the realization of new wastewater pumping systems using mass-produced products.