Ebara Holds Seminars for Irrigation Pumps
Ebara Corporation, with its proven record of delivery in Southeast Asia, organized seminars on "Applications of Pumping Equipment" for civil service workers, engineers of private companies, students and university personnel at Royal University of Agriculture in Phnom Penh on July 8-9, 2014.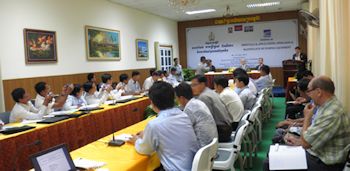 A scene from a seminar (Image: Ebara)
The pumping equipment seminar attracted 45 participants, used video and case studies when presenting lectures centered on basic knowledge about pumps and fundamental planning on pumping stations used in irrigation facilities.
Agriculture is one of the main industries in Cambodia. The irrigation facilities are used during dry seasons when there is a water shortage, this helps increase the agricultural production. Irrigation facilities using these pumps are very important, as they are responsible for supporting the water supply to Cambodia's agriculture. Through the seminar, the people of Cambodia in need of irrigation facilities, gained better understanding of these pumps.
Ebara engages not only in providing pumps for irrigation facilities and other products and services, but in engineering seminars and other international cooperation activities in an effort to assist the development of Southeast Asian countries. Since the launch of the Ebara Hatakeyama Memorial Fund in 1989, it has organized around 240 seminars at different locations in Southeast Asia, welcoming upward of 10,000 participants. Within this fiscal year, Ebara is set to give eight seminars in Thailand, Vietnam, Cambodia, Indonesia and other locations.