Ebara Holds Pump Seminars in Myanmar
Ebara held pump seminars on July 15 and 16 at Myanmar Engineering Society in Yangon, Myanmar. Approximately, a total of 52 participants from government agencies to private-sector companies attended the event.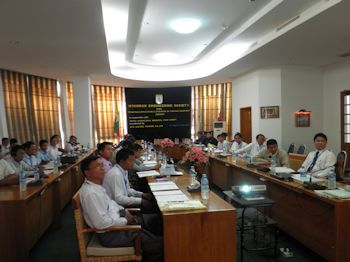 A scene from the seminar (Image: Ebara)
Agriculture is an important industry in Myanmar and it accounts for nearly half of its GDP. The entire country is focusing on irrigation, and the Ministry of Agriculture and Irrigation, which has jurisdiction over agriculture, has a Pump Division. Meanwhile, in the rapidly developing urban areas, preventative measures to protect the roads from heavy rains have become an urgent issue. In this seminar, we focused on basic knowledge for pumps used in irrigation and flood control measures as well as basic plans for facilities.
Ebara has continued to build relationships around the world through technical guidance and other forms of international cooperation. Since the launch of the Ebara Hatakeyama Memorial Fund in 1989, it has organized close to 250 seminars at different locations around the world, welcoming upwards of 11,000 participants. This year, Ebara is set to give 10 seminars worldwide in Myanmar, Thailand, Vietnam, Cambodia, Colombia, Peru and other locations.
Ebara will continue to contribute to the development of Southeast Asian and South American countries not only by offering pumps and other products and services, but through technical seminars and other international cooperation activities.