Dynapumps Supplies Positive Displacement Pump Package for Gas Plant Upgrade Project
Dynapumps recently supplied a Positive Displacement Pump Package for a Gas Plant Upgrade Project.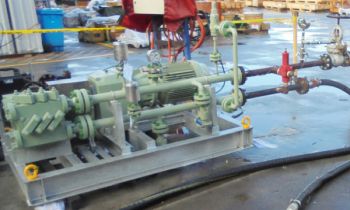 Dynapumps
Once the gas plant is operational it'll assist the export pipeline by supplying treated gas to meet the growing market demand from the Australian eastern seaboard.
The pump package included a Plunger Pump fixed stroke to API 674 with gearbox driven via an 18.5 kW electric motor. Pump is for the SRU HP Make-up Water Pump doing a duty of 3.0 m3/h at a discharge pressure of 5805 kPa(a). This pump has two applications, it s first application is for the Sweet Gas KO Demister Flushing, where flush water is required to clean the demister and inlet device in the Sweet Gas Knock Out Vessel and cleaning the vessel walls in case of any carryover of liquid into the vessel during any foaming incident/upset. The second application is Instrument Flushing to clear full blockages on nozzles to generate pressure differential to dislodge the blockage.