Dynapumps Supplied and Manufactured Dewatering Pump Packages for the Edna May Project
Dynapumps recently supplied and locally manufactured Dewatering Pump packages for the Evolution Mining - Edna May Gold Mine, 312km east of Perth. Edna May Gold Mine is estimated to produce between 80,000oz and 85,000oz by late September 2017.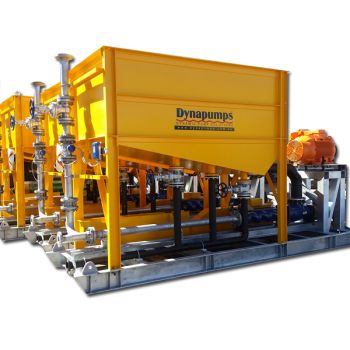 Dynapumps
The equipment was specifically designed and engineered to operate in the exceedingly abrasive and harsh application associated with high pressure underground mine dewatering.
The enquiry was overseen at our QLD branch followed by production commencing at the Perth head office. The assignment included pump packages containing 130-24VR progressive cavity pumps, 100kW electronic motors, painted hopper tanks and galvanised base frames to be installed at different levels underground.
The pump skids will also have a 'A Frame" hoist supplied for pump maintenance and repair capabilities. The pump bases were modularly designed to facilitate interchangeable components, full bases and pump duty flow. Also included a comprehensive backup program offering local and onsite maintenance, local repairs and allocated parts from suppliers.