Drum Pumps Suit Acids, Chemicals and Corrosives
In many liquids handling applications, especially those occurring in surface treatment and finishing processes, safe and efficient transfer of acids, chemicals and corrosives from tanks, drums and carboys is best achieved using a drum pump.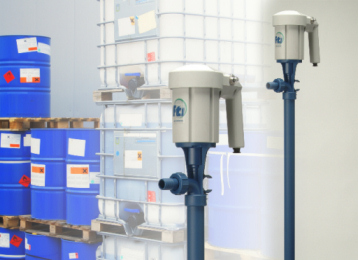 EF Series (Photo: Michael Smith Engineers)
Finish Thompson are acknowledged as a leading manufacturer of these type of pumps and their new EF Series is claimed to be the most competitively priced and highest quality drum pump in its class.
Available from pumping specialists, Michael Smith Engineers, the EF series sealless drum pump is designed for light to medium duty, capable of delivering flow rates up to 64 lit/min at discharge pressures up to 6.1 metres. They are an ideal alternative to hand pumps and include a built-in hose and cord clip for storage convenience.
The pump can be supplied in a choice of tube lengths, including 16", 27", 40" and 48" and a choice of construction materials of polypropylene, pure polypro/pure PVDF. Other features are dual speed, adjustable, continuous duty electric or air motors which have CSA or CE certifications. The motors are also interchangeable with any tube selection.