Drive OneTM – Selection Guide Now Available
Falk's Drive One Selection Guide now includes vertical drives for mixer and agitator duty, and single reduction drives for use in pump and paper applications. This four-color guide is now available on-line (PDF), or by request.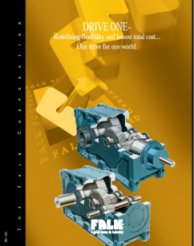 The guide provides selection information, mechanical and thermal ratings, ratios and dimensions, and is available in Imperial or Metric versions.
Drive One is Falk's most configurable gear drive. Designed for mounting on any of the six housing faces, it can be used in horizontal, vertical, end mount or ceiling mount positions. Right angle or parallel shaft arrangements, and solid or hollow output shafts offer almost unlimited versatility. Nine sizes provide output torques from 50,000 to 850,000 lb-in (6,500 to 95,000 Nm).
With a wide range of pre-engineered accessories, including motor flanges, brackets and swing bases, shaft couplings and coupling guards, Drive One provides a complete solution from power supply to driven machine.
The Milwaukee, WI based Falk Corporation offers drive systems, gear drives, gearmotors, shaft couplings, fluid couplings, coupling guards, ring gears, and steel castings in mining, metal processing, pulp and paper, cement, aggregates, chemical processing, utilities, transportation, and food processing.