CUP-BB3 Pump from ClydeUnion Complies with the Latest API Standard
Complying with the latest edition of API 610 standards, the CUP-BB3 pump is an axially split, multi-stage, double volute heavy-duty pump designed for high pressure and high speed service. The pump is designed for exceptional reliability in arduous applications, easy maintenance and long service intervals.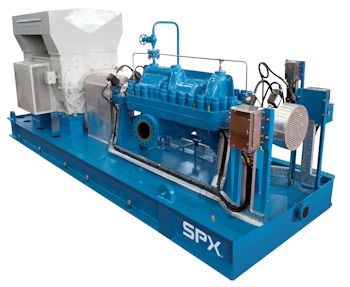 BB3 pump (Image: SPX)
The CUP-BB3 is a well-proven solution with a large global installed base, particularly in downstream oil & gas applications. In response to market demands, prices have been reduced through efficiency savings and exceptionally short lead times for this popular pump are now available. SPX has a keen focus on meeting and exceeding customer expectations. Its expert manufacturing and project management capability was proven during 2014 when its ClydeUnion Pumps BB3 centre of excellence facility achieved 100% on time delivery for the CUP-BB3.
SPX has long experience within the oil and gas industry and the improvements made to the BB3 pump were based on its close partnership with customers and understanding of their needs. To enable it to offer these extra benefits on the CUP-BB3 range, SPX took a number of steps to improve the manufacturing process. These included shared knowledge from across its manufacturing sites, new investment in machinery and working with suppliers to ensure a more robust supply chain for key components.
Samuel Eccles, Global Product Manager for the CUP-BB3 line commented, "SPX has a clear focus on ensuring product reliability. Any improvements we can make to our product engineering, supply chain and lean manufacturing processes must absolutely ensure this is not compromised. We are equally always listening to what our customers need and striving to improve their experience in all areas of a project on a continuous basis. This pump is particularly strong in downstream applications and we are delighted with being able to offer such significant improvements to our customers in terms of both price and delivery in this important product line."
SPX has a programme of continual research and development and a long heritage of market-leading technology from other brands such as Dollinger, Plenty, Bran+Luebbe, M&J Valves and Copes-Vulcan. Its in-depth technical and manufacturing expertise combined with vast experience in upstream, midstream and downstream applications, make it a leading supplier to the oil & gas industry. Its expert engineering capability further includes the supply of sophisticated pump packages including electric motors, gearboxes, lube oil systems, steam turbines, diesel engines, control panels and instrumentation along with foremost valve and filtration solutions.