CSF Piston Pumps the Perfect Solution to Thick, Viscous Fluids
Transferring thick, high viscosity 'fluids' such as purees, pastes, creams, syrups and gels in the food, brewing and pharmaceutical industries, presents unique pumping problems.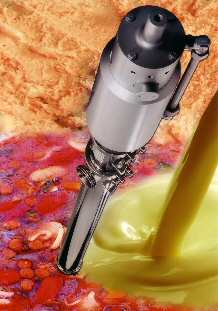 Pump Engineering Ltd
CSF air-operated piston pumps are ideally suited to these types of applications as they are particularly effective for transferring thick, viscous liquids from tanks, drums and IBC's. Also, as they are available as quick-strip versions, they can be easily dismantled for simple and effective cleaning, without the need for tools.
CSF air-operated piston pumps are competitively priced and available immediately from stock through liquids handling specialists PUMP ENGINEERING. They can be supplied as a long version for drum emptying where the piston is below the liquid level, an option which enables the pump to handle liquids with much higher viscosities. Short versions are also available for bottom discharge vessels or for applications where wall-mounting is required. The positive head and bottom-entry positioning of the pump combine to ensure an improved flowrate and increased efficiency.
The CSF pump range provides models which will deliver flow rates up to 100 litres / minute and pressures up to 150 bar. CSF pumps are also fitted with a special bag-in drum inlet, a feature which prevents the plastic drum lining used in some containers, from being drawn into the pump. For non-flowable creams, pastes, gels and waxes, the pumps can be fitted with a follower plate and single or two post ram, which will empty almost any parallel sided vessel.
Materials of construction are AISI 304 or 316 polished stainless steel, with a choice of PTFE or nitrile seals.