Warren Controls Highlights 1800N Series Valves
Warren Controls highlights its 1800N series heavy-duty globe valves. These valves can be supplied in conformance with a variety of MIL-V-18030 service applications, including high pressure differentials, corrosive materials, liquids, gasses, steam, and seawater.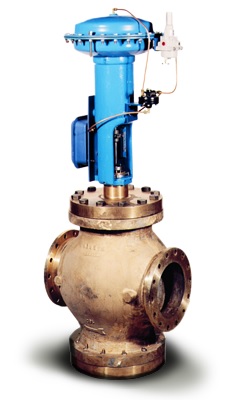 Heavy-Duty Globe Valves Serve a Variety of Applications. (Image source: Warren Controls)
The 1800N series provides either modulating or on/off control in either 2-way or 3-way mixing. These valves also have diverting designs available in bronze, steel, and iron with a wide selection of trims, both electric and pneumatic actuators, and accessory instrumentation.
The specific styles available for this series include 2-way balanced, 2-way unbalanced, 3-way mixing, and 3-way diverting. Their sizes range from ½ inch to 12 inches, with flanged end connections crafted to MIL-F-20042 or ANSI specifications.
From ship deballast systems to ship propulsion systems and desalination, these heavy-duty globe valves serve a variety of applications. Many of these control valves are made in accordance with MIL-V-18030 standards, and many regulators qualify them as ASTM-F1370 (MIL-V-2042). Most of these valves have also been shock qualified to MIL-S-901 and vibration qualified to MIL-STD-167 standards.