Compact, Quick-Change Hose Pump
A new, compact peristaltic pump which enables quick-change hose replacement in seconds without the need for tools has been introduced by liquids handling specialists Pump Engineering.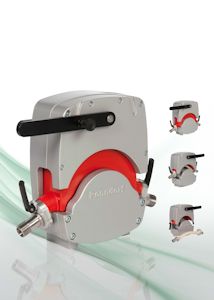 Pump Engineering
The Ponndorf P Delta pump features a simple, one handle operation which disconnects / reconnects the pump head to enable quick hose replacement as well as fast and effective cleaning.
The combination of its non-contact, low-pulsation operation and fast hose replacement makes the Ponndorf P Delta pump an ideal choice for applications involving delicate or shear sensitive fluids, such as in the food, brewing, paint, pigments and printing industries where quick-changes of ingredients, additives or inks may be required.
The compact Ponndorf P Delta is self-priming can run dry safely and self-prime from up to 8 metres. It requires only a small footprint, so can be integrated into applications where space is very limited. Standard 3 roller models or 4 roller models for smoother flow are available for handling flows up to 975 lit /hour with a maximum pressure of 4 bar.
Hose materials are available to suit a range of applications including natural rubber and white food grade Ponnprene as approved by the FDA.