Colfax Fluid Handling to Provide Pumps for Saudi Arabia Power Plant
Colfax Fluid Handling, a business of Colfax Corporation (NYSE: CFX), has received an order to deliver 21 of its Allweiler screw pumps valued at more than €300,000 for a power plant in Saudi Arabia. The pumps will be an important part of a gas turbine power plant in Yanbu.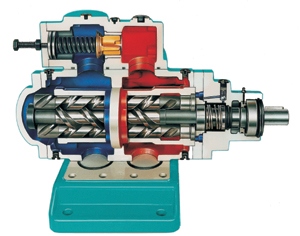 Twenty-one Allweiler pumps of the "SN" series pump heavy oil, ALC, and lubricating oil at the Yanbu II gas turbine power plant in Saudi Arabia.
The order includes 21 pumps for moving heavy, crude (Arabian Light Crude or ALC), and lubricating oil. "Hanwha Corporation, our partner in South Korea, will provide systems for the plant; Hanwha has used these pumps in their systems for years," said Stefan Kleinmann, Senior Director of Marketing and Business Development at Allweiler. "Their positive experience with Allweiler screw pumps and our expertise were decisive factors in granting us the order."
Pumping liquids like heavy oil and ALC requires special seal types and materials that are selected to fulfill the operator s specific requirements. Seals must comply with API standards and diagrams, sometimes in the form of double-acting mechanical seals and flushed seals. The materials, in particular, were required to meet very high quality standards. In addition to fulfilling these requirements, the ability to reliably provide onsite support at the power plant in Saudi Arabia as well as at equipment manufacturer (Hanwha Corp. in South Korea) was a critical factor in granting this order.
These pumps will operate on three gas turbine generators at the Yanbu II power plant. Each will provide 230 MW of output, forming one part of a seawater desalination plant. The generators are currently under construction with delivery from Hanwha anticipated early in 2013.