Colfax Fluid Handling to Deliver Chemical Pumps to China
Colfax Fluid Handling will deliver Allweiler screw pumps for a project in China. The PMDI pumps will be an important part of a new MDI plant in the Chinese city of Chongqing.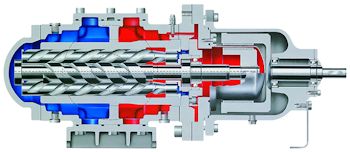 Twelve magnetically-coupled Allweiler pumps of the "SNH" series move polymeric methylene diphenyl diisocyanate at the new BASF chemical plant in Chongqing, China. (Image: Colfax)
BASF is constructing a new MDI complex in Chongqing. When complete, the plant will produce up to 400,000 metric tons of methylene diphenyl diisocyanate (MDI) each year. MDI is a raw material for polyurethane foams. The plant is expected to be commissioned in 2014.
The pump order is comprised of twelve units for moving polymeric methylene diphenyl diisocyanate (PMDI) and will form the plant s core pumping capabilities. According to Stefan Kleinmann, Senior Director of Marketing & Business Development at Colfax Fluid Handling: "We faced some serious competition for this order. We ultimately prevailed because of our on-site technical support and consultation, a proposal that was tailored to the needs of the plant, and strong references from existing BASF plants that have used our pumps for years." BASF has already awarded follow-on orders for the expansion of a plant in Shanghai as well as for the plant under construction.
At the Chongqing plant, the liquid must remain absolutely pure without even the smallest traces of foreign substances. For this reason, the entire pumps are manufactured from special materials that are free of non-ferrous metals. All of the pumps are equipped with magnetic drives in order to avoid any chance of environmental contamination or health hazards. Twin units ensure uninterrupted operation. The three-screw pumps of the "SNH" series achieve a discharge pressure of up to 64 bar and have a capacity of 5300 l/min.
MDI is a core component of polyurethane (PU).
Polyurethane is a good heat insulator for the purpose of keeping items like food and pharmaceuticals cool during production, transport, and storage. Polyurethanes are used in most refrigerators and freezers, as insulation in warm water reservoirs, and for insulating community heating and cooling lines.