Climate-Friendly Electricity for 170,000 Households
On 15 September 2011, Rheinfelden hydro power station at the German-Swiss border was reopened in a festive ceremony.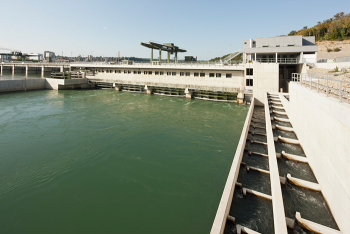 The new hydro power plant Rheinfelden with the fish ladder on the right side. (Copyright: Energiedienst AG)
After a construction time of almost eight years, the operator Energiedienst AG is now able to generate three times as much hydro electricity from the Rhine with the help of four Voith bulb turbines; production has risen to 600 million kilowatt hours per year. With this output, some 170,000 households can be supplied with climate-friendly electricity.
Voith looks at the project, which was completed ahead of schedule, with great pride: "It has been quite some time that the German market has seen a run-of-river power plant in this magnitude", said Dr. Roland Muench, Chairman of the Management Board of Voith Hydro. "We are particularly proud of the fact that our turbines actually exceed the contractually guaranteed efficiency". Dr. Muench also highlighted that Rheinfelden is a technologically sophisticated project, which only succeeded so well, because all partners cooperated so closely.
With his participation in the opening ceremony Baden-Württemberg s Minister President Winfried Kretschmann joined the ranks of prominent guests at Rheinfelden. Last year, German Chancellor Merkel had already visited the construction site, followed by a tour of Voith s global research center for hydro power technology, the "Brunnenmuehle" in Heidenheim, where the turbines for Rheinfelden were developed.
Hydro power is the biggest and oldest, and at the same time most reliable source of renewable energy generation. All over the world, hydro power makes an essential contribution to economic and social development in industrialized countries as well as fast-growing regions. Moreover, it contributes significantly to climate friendly energy generation.