CIRCOR Brand Portland Valve Announces 50 Year Anniversary 
CIRCOR International, Inc. joins their brand Portland Valve in celebrating their 50 year anniversary. Originally incorporated June 29, 1973 with 5 employees, PV has grown to become a standard name in valves for both submarines and surface vessels over the past 50 years.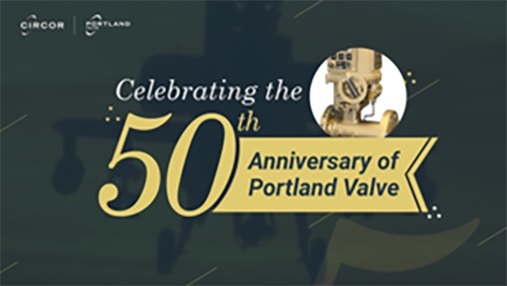 Innovative valve manufacturer for marine industry celebrates 50 years in the business. (Image source: CIRCOR International, Inc.)
Portland Valve manufactures a full line of ship service ball valves and other specialty valves for submarine applications as well as specialty valves for aircraft carriers and destroyers. PV also provides repair services for bleed air control valves and all valves that we manufacture.
In 2004, PV was acquired by Colfax Corporation. During this time PV expanded its product base with a new design Bleed Air valve line for the DDG51 Class destroyer. This was a brand-new PV design that replaced a legacy product and was PV's first proprietary design valve for a specific ship class. PV valves are currently installed on hull DDG 95 and forward.
PV also designed and developed the Smart Valve and Electric Actuator products for the DDG 1000 Class. Approximately 800 smart valves are installed on the three DDG 1000 ships in the fleet. Today, PV enjoys significant spares business to support the installed base on this futuristic ship class.
In 2011, the Portland Valve plant moved to the Warren Pumps facility in Warren, MA. In the last 10 years PV has increased their market share for new submarine construction and is currently the last remaining legacy valve manufacturer for these programs. A recent major investment in new equipment has positioned PV to meet increased demand as the submarine construction increases.
Longstanding employees continue to assist and support Portland Valve in the efforts to grow, support customers, and provide the highest quality products for critical naval platforms. "Congratulations to the PV team on their amazing history," shared Tom Spock, VP, Strategic Business Development, Global Defense. "We are very proud to be associated with this team and the work they continue to do supporting our marine customers."