Chemineer Mud Mixers Provide Field-Proven Performance in Drilling Mud Applications
The Chemineer mixers feature high-efficiency gearboxes designed specifically for agitator service and have configurations to meet application requirements that are unique to mud mixing applications.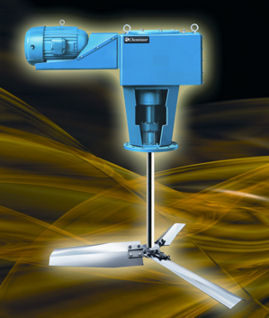 Mud Mixers for Drilling Mud Applications (Image: Chemineer)
Chemineer's advanced impeller technology enhances mixing performance. Proprietary analysis software is available to evaluate process parameters and ensure proper impeller selection for specific drilling mud mixing conditions.
Chemineer mud mixers offer customer benefits that include:
Proven performance in mixing larger and deeper mud tanks for cost-effective operation
Rugged gear drives that withstand harsh environments typically encountered in mud mixing applications for reduced maintenance costs and long service life
Highly efficient impeller technology that reduces horsepower requirements and blade erosion over canted impellers and submersible mixers
Uniform suspension of solids for optimal drilling mud consistency
Upgrades for underperforming agitators