Carver Pump Selects Turbodesign Suite by Advanced Design Technology
Carver Pump selected the Turbodesign Suite by Advanced Design Technology (ADT), for development of its newest line of RS multistage ring section pump offerings.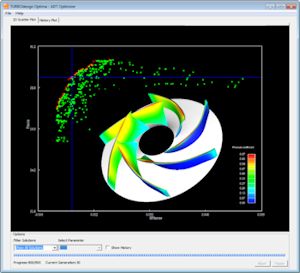 Turbodesign Suite (Image: Advanced Design Technology)
Carver's RS series was designed to maximize efficiencies in moderate to high pressure pumping solutions and is now available in five basic sizes with overall performance to 1,000 horsepower (HP). Turbomachinery design engineers and original equipment manufacturers (OEMs) looking to dramatically decrease design times while increasing product efficiencies also will benefit from the ease-of-use provided via the 3D inverse design process available in ADT s Turbodesign Suite.
"Carver Pump used ADT's Turbodesign Suite to speed development of impeller, diffuser and return vane sets for expanding our family of RS multistage ring section pumps," said Mark Post, chief operating officer for Carver Pump. "Exceptional efficiency, good suction performance and stable off-design performance were required for this family of pumps, and Turbodesign Suite delivered. Now we can pursue even more business that pushes the envelope, because we know we can consistently develop reliable hydraulic designs."
Turbodesign Suite's 3D inverse design approach enables users to describe loading criteria then output a blade design based on those criteria. It has been proven to be a much more intuitive and superior method of design over the conventional design approach, and, because of its more logical approach, new engineers are trained quickly and produce excellent designs in record time.
"The Turbodesign Suite provides a more systematic approach to aerodynamic turbomachinery design, because, once an optimum input specification for a given design criteria (such as minimum loss, cavitation suppression, secondary flow suppression, etc.) has been obtained, it is used to develop new prototypes very rapidly, thereby reducing development time for new designs, said Merhdad Zangeneh, PhD., professor of thermofluids at University College London and founding director of ADT.