Calculating Potential Energy Savings Online
Potential energy savings in electrical drives in the process industry can now be calculated online. The calculation tool Sinasave from Siemens Automation and Drives (A&D) is available for download.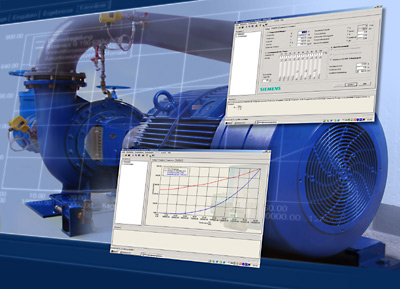 Siemens
The program calculates the savings in the use of frequency converters for variable-speed systems or in the use of energy-saving motors for fixed-speed applications. It considers not just the individual drive but the entire drive train.
In the case of constant-speed drives, the Sinasave program from Siemens A&D calculates the energy savings and amortization involved in changing to energy-saving motors of a higher class. For the use of frequency converters in variable-speed systems, the characteristic data and parameters of a plant are entered, such as delivery volume and delivery heads in the case of pumps, or mass flow and total pressure difference in the case of ventilators. With data on working shifts and duration of operation as well as the daily and annual delivery profile, the program calculates the energy-saving effect of using the correct drive system.
In addition to strict energy savings, the tool also includes other cost-reducing effects that can be achieved, for example, through the improved power factor in speed-controlled operation, or by removing mechanical closed-loop control. Sinasave also identifies the payoff period of the investment. For this purpose, the overall investment, comprising acquisition cost, planning, engineering, plant integration and startup, is set against the overall saving. The investment often pays off after just a few months.
The Sinasave tool is characterized by its user-friendly structure and operator interface. The tool is self-explanatory and has an extensive help function with formulas. Different units of measurement are automatically converted by the program into the corresponding standard units. The results are presented vividly in the form of characteristic curves. You can choose from a total of nine languages, including Russian and Chinese in the new version.
For more information or to download the application please visit the Siemens A&D Website.