Busch Extends the Mink Range of Vacuum Pumps
Busch recently presented a new Mink claw vacuum pump that is the largest so far with a suction capacity of 500 cubic metres per hour.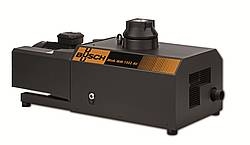 Busch recently presented the new pump size, with a suction performance of 500 cubic metres per hour. (Image: Busch)
This means that Busch now offers a finely graduated range of these dry-running vacuum pumps in sizes from 60 to 500 cubic metres.
As with all sizes of Mink claw vacuum pumps, this new vacuum generator is perfectly suited for use in pneumatic suction conveying systems, for the generation of the retaining vacuum on CNC woodworking machines, in the plastics industry and for many other industrial applications. The new Mink vacuum pump works on the principle of proven claw technology, which is already being used for vacuum pumps with a lower suction capacity and has established itself in a whole range of application areas. An advantage of claw technology is that the vacuum is generated without additional operating fluids. There is no need for oil or water, which are usually necessary for operating other vacuum pumps. Thanks to the Mink vacuum pump's non-contact operation method, there is no internal wear. This means that vacuum generators are as far as possible maintenance-free.
Thanks to this non-contact operation, Mink claw vacuum pumps operate with a high degree of energy efficiency, which enables an energy saving of up to 60 percent compared with conventional vacuum generators. Mink claw vacuum pumps are equipped with a directly flange-mounted drive motor, efficiency class IE2, as standard. Operation with frequency converters is of course possible and opens up additional energy-saving potential.