Bornemann Certified as an Authorized Economic Operator (AEO)
Joh. Heinr. Bornemann GmbH from Obernkirchen is one of the first German companies to be certified as an "Authorized Economic Operator (AEO)".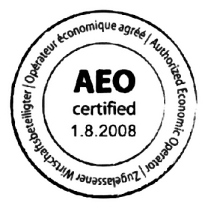 AEO Certificate (Bornemann Pumps, Germany).
This news was announced by Peter Ass, Director of Import / Export at Bornemann, the global pump and system manufacturer. Bornemann passed the certification process quickly and successfully to become an "F" AEO. Peter Ass explains how the certification process works:
"Applications for this certification have been coming in since January 1, 2008. But we had already been preparing for it since 2007. Working together with Albert Bremges, Director of Customers and Export Control at Goodrich Control Systems in Neuss, we began last September discussing the EU Commission's Guidelines because we wanted to be well prepared for the certification process. The list of questions from the German Customs Administration covered 167 points, which indicated to us the importance of this certification. So, starting in January, we then worked consistently through this comprehensive list of questions. After we had submitted the application in May 2008 and went through the audit with the main customs office in June, we were able to obtain certification on July 23. We are very proud of this."
Bornemann believes this certification is very important. It is the equivalent of a seal of ap-proval similar to ISO 9001, a globally recognized standard for the highest quality. Certifications with a globally recognized status are just as important for the German pump manufacturer as for its customers, who come from many different industries -
the food industry and natural oil and gas companies around the world, to name a few.
As part of supply chain management - defined as measures and concepts for safeguarding processes and minimizing risks - certification plays an important role with regard to supply chain security because it protects the supply chain.
Peter Ass is not only proud that Bornemann is one of the first German companies ever to obtain this certification, he also mentions the excellent relationship that has developed with the Hanover Main Customs Office: "Bornemann is an international company, we deliver pumps and systems to customers around the world. Wherever natural oil and gas are transported, you will find the Bornemann brand name. That is how our company has gained decades of in-depth experience when it comes to import and export and is familiar with the complex customs procedures in almost any country on earth. So a smooth and trusting cooperative relationship with the relevant customs offices and officers continues to be very important for us."