Blackmer X/GX Series Sliding Vane Pumps Are Built to Handle Solvents in Paint & Coatings Manufacture
Blackmer is pleased to announce that its X and GX Series Sliding Vane Pumps have been designed with a variety of features that make them ideal for the loading, transfer and unloading of solvents, which are crucial components in Paint & Coatings manufacturing applications.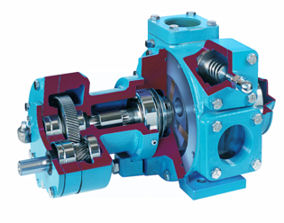 Blackmer GX Series
Solvents, also known as the "carrier," are the portion of the paint that helps get the pigment and binder from the container onto the surface that is to be painted.
What separates the GX Series pumps—which are available in four different models with flow rates ranging from 30 and 520 gpm (114 and 1,855 lpm)—from the X Series models is the incorporation of an integral head-mounted gear-reduction drive that features oil-lubricated, hardened helical gears. The gear shafts are supported at both ends by ball bearings for smooth operation and long life. A splined reducer, which can be rotated on the pump head to accommodate a variety of motor sizes, simplifies pump and reducer alignment. This design makes GX pumps the first choice for economy and compactness in solvent-handling applications.
Both the GX and X Series pumps—which are also available in 2-, 2.5-, 3- and 4-inch port sizes with the same flow-rate range as the GX models—are constructed of cast iron and offer superior self-priming and dry-run capabilities. Their symmetrical bearing support assures even loading and wear for long life, while an adjustable relief valve protects the pump against excessive pressures. The pumps also benefit from Blackmer's revolutionary sliding-vane design that self-adjusts for wear to maintain flow rates and ease maintenance.