Blackmer Releases Updated Bulletin 501-001 in Multiple Languages
Blackmer announces that it has recently released an updated version of Bulletin 501-001. Available in multiple languages – English, French, Russian, Spanish and Mandarin – this updated document has been designed to provide customers with in-depth product information regarding Blackmer positive displacement pumps and oil-free reciprocating compressors for liquefied gas applications.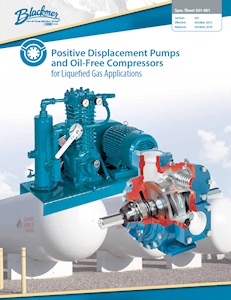 Updated bulletin 501-001 in multiple languages (Image: Blackmer)
Blackmer liquefied gas pumps are widely used for cylinder filling, motor fueling, bulk transfer, vaporizers, and on bobtails and transports. Utilizing Blackmer's unique sliding vane design, these pumps offer the best combined characteristics of sustained high-level performance, energy-efficiency, trouble-free operation and low maintenance cost. Pump models are available in 1- to 4-inch port sizes, and feature ductile iron construction for thermal shock resistance, low friction ball bearings for high efficiency and quite operation, and threaded lockcollars that prevent end thrust wear. In addition, Blackmer offers differential bypass valves that are designed to protect pumps and system components from excessive pressure damage.
Blackmer oil-free gas compressors deliver high efficiency in handling propane, butane, anhydrous ammonia and other liquefied gases. Ideal for rail car unloading and vapor recovery applications, Blackmer oil-free gas compressors have been designed to provide maximum performance and reliability under the most severe service conditions. All pressure parts are of ductile iron construction for greater resistance to both thermal and mechanical shock. Blackmer oil-free gas compressors are available with capacities from 7 to 125 cfm (11.9 to 212 m³/h).