Blackmer Releases GNX & GNXH Series Pumps
Blackmer, part of PSG, is pleased to announce the availability of its new GNX and GNXH Series Sliding Vane Pumps. The market's only alignment free reduced speed positive displacement pumps, Blackmer GNX and GNXH Series pumps are designed to handle a wide range of non-corrosive, non-abrasive industrial liquids and petroleum products.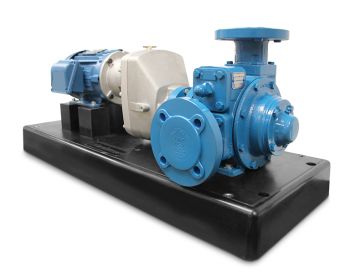 Blackmer
Manufactured with a larger operating range than competitive designs, Blackmer GNX and GNXH Series pumps offer higher flows and higher pressure. These pumps are available with a robust, commercial-grade gear reducer with more operating speeds that allows for precise flow selections. GNX and GNXH Series pumps are self-priming, and the self-adjusting vanes help maintain this capability. In addition, they are the only alignment-free pumps that can dry run without damage during self-priming and line stripping.
These pumps are currently available in 2- and 2.5-inch flanged port sizes. Larger 3- and 4-inch flanged port sizes will be released later this year. Combined, these sizes provide flow capacities ranging from 20 to 500 gpm (76-1,893 L/min) at working pressures up to 175 psi (12.1 bar). Both 90 degree and 180 degree porting are standard. GNX and GNXH Series pumps are suited for both portable and stationary applications. Typical applications include fuel oils, lube oils, jet fuels, gasoline, edible oils and a variety of solvents and thinners.