Blackmer Offering GNX & GNXH Series Pumps for Chemical-Transfer Applications
Blackmer, part of PSG, a Dover company and a global leader in positive displacement, regenerative turbine and centrifugal pump, and reciprocating compressor technologies, is pleased to announce that its GNX and GNXH Series sliding vane pumps incorporate numerous design features that help them excel in a wide variety of chemical-transfer applications.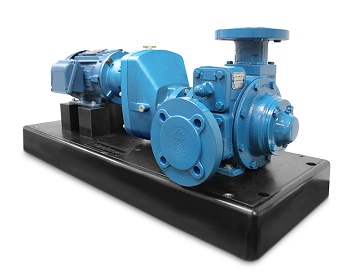 Blackmer GNX (Image: Blackmer)
The design of GNX and GNXH Series pumps eliminates traditional couplings and features a commercial-grade, single-stage gearbox with aluminum housings, NEMA C-face or IEC D-flange motor connections and a proprietary output shaft that is compatible with the Blackmer keyed pump shaft. This revolutionary design makes GNX and GNXH Series pumps the industry's first alignment-free, reduced-speed pumps for use in both portable and stationary applications.
An enhancement of the Blackmer legacy GX Series product line, GNX and GNXH Series pumps are the ideal solution for chemical-transfer applications because they are more efficient than competitive technologies, while providing high-level performance, high suction lift and line-stripping capabilities with low maintenance and life cycle costs. The pumps' robust, commercial-grade gear reducer is capable of producing low ratios, resulting in more precise flow rates. Also, the locked-rotor between-bearing design extends mechanical seal life and improves operational safety, and the compact footprint utilizes a close-coupled, inline design that allows the pumps to be a like-for-like replacement in existing systems.
In addition, the GNX and GNXH Series pumps have been manufactured with a larger operating range than competitive designs, offering higher flows and higher pressure. They are also the only alignment-free pumps that can dry run without damage during self-priming and line-stripping operations.
GNX and GNXH Series pumps are available in 2- and 2.5-inch flanged port sizes (3- and 4-inch sizes to follow Q1-2018). Combined, these sizes provide flow capacities ranging from 20 to 500 gpm (76-1,893 L/min) at working pressures up to 175 psi (12.1 bar). Both 90-degree and 180-degree porting are standard. These pumps are suited for both portable and stationary applications.