Blackmer Liquid Terminals Brochure Now Available
Blackmer has announced that it has created a new brochure specifically for the Liquid Terminals Market. The new brochure describes how the incorporation of Blackmer's rotary sliding vane and centrifugal pumping technologies can help liquid-terminal operators improve the efficiencies and reliability of their transfer, blending/mixing and transportation applications.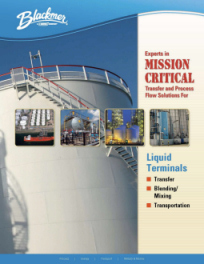 Blackmer
More specifically, the brochure highlights the unique features and benefits Blackmer pumps bring to the handling of a wide array of liquid-terminal commodities, from petroleum products like motor fuels and asphalt, to chemicals, caustics, sulfates and acids, and all types of vegetable oils and animal fats.
Features of Blackmer sliding vane pump technology include consistent volumetric output, flexible flow rates, superior self-priming and line-suction capabilities. Blackmer centrifugal pumps have been designed around the seals where 90% of all pump failures occur. Other centrifugal-pump benefits include a heavy-duty shaft that eliminates vibration, a shorter shaft overhang and the industry's best warranties.
Blackmer's Liquid Terminals Brochure includes an application matrix and easy-to-navigate schematic drawing that depicts where specific Blackmer pump types fit into traditional liquid-terminal operations.