Blackmer Donates TXD Sliding Vane Transport Pump To Patten Oil's Breast Cancer Awareness Program
Blackmer has continued its involvement with the campaign to raise breast cancer awareness by donating a transport pump for use on a pink breast cancer awareness fuel oil truck.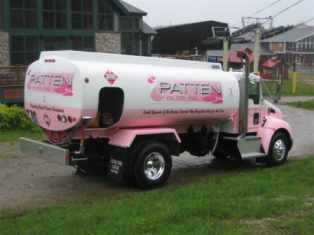 Blackmer
Owned and operated by Patten Oil Co., Inc., Rutland, VT, the truck, which went into service in early May, is part of Patten Oil's "Fueling a Cure Program." Patten Oil has teamed with the Vermont/New Hampshire Affiliate of the Susan G. Komen for the Cure foundation to raise funds for breast cancer research, education, screening and treatment, as well as the cancer wing of the local Rutland Regional Medical Center.
"We've heard stories from our customers over the years, stories about cancer in their families," said Mark Patten, President of Patten Oil, who noted that company Vice President Tonya Hutchinson has a son who suffers from leukemia. "There's a lot of cancer out there and the money we can donate to the Komen fund and the local hospital is a great way to give back to the community."
The truck was built by Blackmer OEM Boston Steel & Mfg. Co., Malden, MA. To help outfit the truck, Blackmer donated a TXD2.5A-AVB transport pump. Patten Oil will donate one penny per gallon of fuel oil delivered by the pink truck during its lifetime to both the Susan G. Komen for the Cure campaign for breast cancer awareness and Rutland Regional Medical Center. This is the fourth tank that Boston Steel has created for a breast-cancer awareness truck, joining those made for Rymes Heating Oils, Inc., Antrim, NH; James Devaney Fuel Co., Newton, MA; and Ray & Sons, Albany, NY.
"The first one we did was for Rymes Oil two years ago and two other customers saw it, liked the idea and they did it," said David Burke, President of Boston Steel. "Patten Oil is a relatively new business, but Mark Patten is a civic-consciousness type of guy and he saw the other ones and really liked how they looked. It's a good feeling for all of us to do this and see the trucks on the road."
Patten Oil was founded in the 1980s in Attleboro, MA, and relocated its base of operations to Rutland in 2005. The company serves a customer base that covers 22 municipalities in central Vermont. After just six weeks on the road, many of those customers are already calling in and requesting the pink truck for their oil deliveries. Additionally, Patten plans an expansion into propane in the future and is hoping to employ a pink bobtail for those deliveries, as well.
"That pink truck draws a lot of attention when we drive it down the road," said Patten. "Women will look up and wave or beep. This is a man-driven business, so we kind of wondered who's going to drive the thing? It turns out people want to drive the truck, too."
About Blackmer
Blackmer is the leading global provider of innovative and high-quality rotary vane pump and reciprocating compressor technologies for the transfer of liquids and gasses. For more than a century, the Blackmer name has stood for unparalleled product performance, superior services and support, well-timed innovation and a commitment to total customer satisfaction. Supported by a worldwide network of distributors and original equipment manufacturers, Blackmer pumps and compressors are used in a multitude of applications in the Process, Energy, Transport and Military-Marine markets. Blackmer—headquartered in Grand Rapids, Michigan, USA—is a member of Dover Corporation's Pump Solutions Group (PSG).