Biral Launches New All-in-One Pump
The VivarA replaces the well-known VariA-E and combines the best of two worlds. This model follows the successful ModulA concept and anticipates the simple control concept with Bluetooth Connect to the dry-running in-line pump.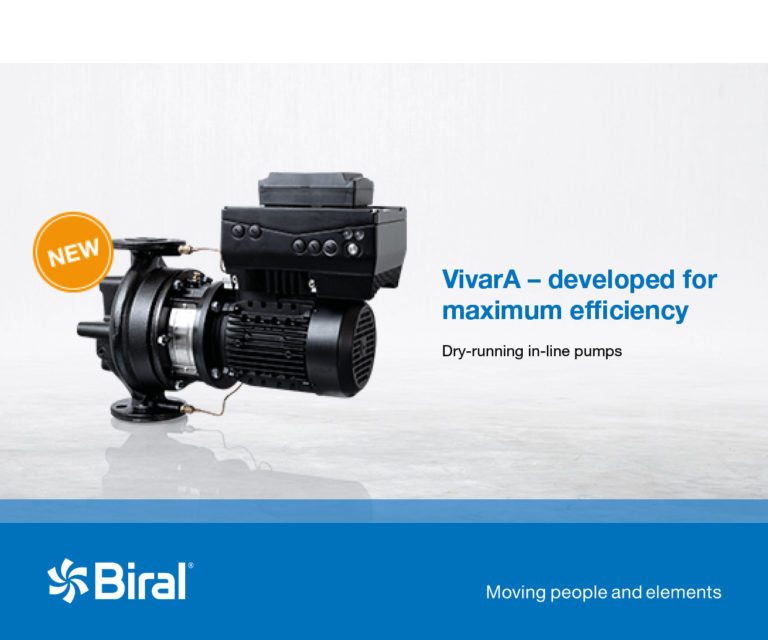 VivarA – developed for maximum efficiency (Image source: Biral AG)
This means that it can be easily connected to the Biral ONE app and integrated into any building services control system using separately supplied BIM modules. With the new Bluetooth interface to the Biral ONE app, we were able to multiply the operating and information possibilities compared with the previous pump.
Maximum efficiency
The latest generation of synchronous motors takes the entire series to the next level – efficiency class IE5. The VivarA therefore surpasses all ErP guidelines for efficiency class IE4.
Areas of application
Standard variants and optimally coordinated characteristic curves make it easy to get an overview of the product range. At the same time, the pump remains versatile in its areas of application:
Heating
District heating systems
Cooling
Industrial cooling
Industrial applications
All-in-one
Thanks to the completely revised design of the pump, segmentation has been greatly simplified. The permitted media temperature range of –20 °C to +140 °C means that the pump is versatile and can be used both for heating (RED) and cooling applications (GREEN). The VivarA is therefore considered an all-in-one pump.