KBL Introduces a New Line of its Self-Priming Coupled Pumpset
Kirloskar Brothers Limited (KBL) is now offering its Self-Priming (SP) coupled pump-set with new and indigenously developed KBL make IE5 motor having ultra-premium efficiency.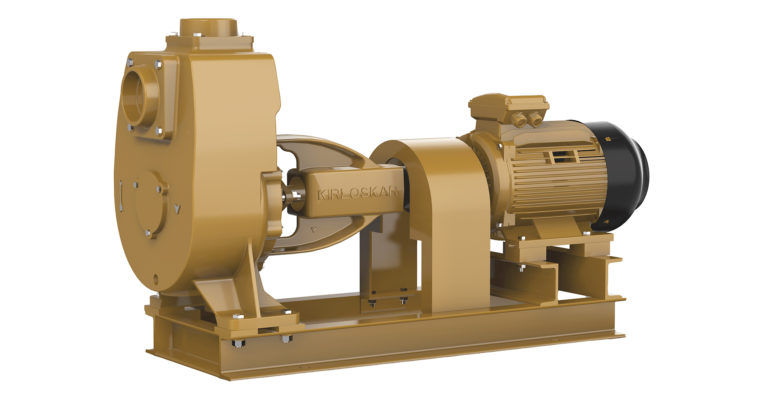 KBL introduces a new line of its Self-Priming Coupled Pumpset fitted with KBL make Ultra-Premium Efficiency IE5 motor. (Image source: Kirloskar Brothers Ltd)
This SP coupled pump-set is versatile in use and is most suitable for handling light chemicals, effluents, sewage, handling rain or flood water, pumping water from docks, ports and vessels. It is also useful for draining accumulated water from basements, parking lots, highways, and cooling water for marine engines, shovels and piling equipment.
This pump-set has been coupled with the KBL make of IE5 motor, which makes it a highly energy-efficient product. It consumes up to 16.5 percent less energy for pumping the same amount of fluid. Its cast-iron motor body makes the pump-set easy to operate, maintain, and service. The pump is self-priming, thus resulting in a quicker start time. It offers ultra-premium efficiency with a lower life cycle (LLC) and operating cost.
The SP Coupled pumpset with IE5 motor has high efficiencies achieved with AC induction motor design. It is easy to operate, maintain, and service at local levels as there are no permanent magnets, added accessories or control equipment. With a robust design and high-grade insulation, it is most suited to work under varied field conditions and can withstand extreme power fluctuation, guaranteeing reliability, enhanced equipment safety and longer life.
Some of the other prominent features of the product include its fan and fan cover design for optimum power consumption and quiet operation. It has a head range of up to 32 metres and a discharge range of up to 75 litres/sec, and also its high-quality mechanical seal eliminates leakage, ensures lower friction loss and protects the shaft from wear and tear. With the hydrogenating acrylonitrile-butadiene rubber (HNBR) combination, it can withstand fluid temperature up to 120 degrees Celsius.
The non-clog impeller of the pump can handle suspended soft solids of up to 40 mm and is coated with Cathode Electro Deposition (CED) for corrosion resistance. The pump is suitable for wastewater handling, sewage handling and dewatering applications. These pump sets are ready for use and can also be serviced locally at any of KBL's authorised service centres across India.
Many of KBL's products also play an integral role in energy conservation. Be it the wide range of energy-efficient BEE & BIS rated pump models, Lowest Lifecycle Cost (LLC) pump series, as well as the pumps with IE3 and IE4 motors. The newly-launched SP coupled pump-set with KBL IE5 motor falls in the same league.
KBL remains a renowned name, which is known for its innovative technological advancements and high-quality products. A proud "Make in India" company, KBL's next-gen SP coupled pump set with IE5 motor promises reliability, durability and significant savings!