BETSY – The Emergency Overpumping Station
During the refurbishment or replacement of damaged sewage mains it is often necessary to install an emergency pump to continue the flow of the raw sewage to the treatment works.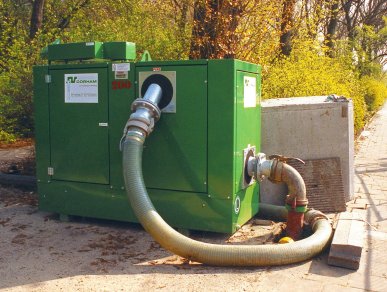 Betsy, the self-priming diesel driven pump set from Hidrostal, is proving to be the ideal solution for overpumping raw sewage.
Built around the Hidrostal screw centrifugal impeller, recognised for its exceptional solids handling capability and operating efficiency, Betsy has been specifically developed to meet the requirements of emergency and project pumping. The pump is capable of handling unscreened sewage and sludge without blocking and owing to its fully bunded containment, sewage, fuel or lubricating oil leakages remain within the unit eliminating ground contamination.
Operating costs are kept to a minimum due to the efficient running diesel engine and the automatic electronic priming and continuous level management system. The vacuum priming equipment is electrically controlled so will only operate when required, adding to the fuel savings; and the level control eliminates the need to run on snore (dry), reducing pump running time, fuel consumption and noise.
With noise emissions as low as 55 dB at 7 metres distance on the Hidrostal Betsy 100 mm model, Betsy is also the ideal answer for pumping in noise sensitive areas.