BBA Introduces B Series in a New Environmentally Friendly Design
BBA Pumps strives to produce the world s best performing and environmentally friendly pump systems. Following the recent innovations made to our other pump series –– we are now introducing a new design to our B series self-priming pumps.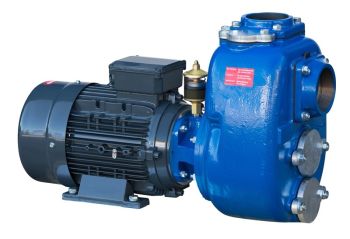 BBA Introduces B Series in a New Environmentally Friendly Design (Image: BBA Pumps)
The design of the larger B pumps (6" to 10") has been thoroughly modified, resulting in a higher pump efficiency and a larger passage for solids. For the smaller models – like the very popular electrically driven B40 to B70, we have made enhancements to the production process. A good example of which are the changes being made in our spraying process. BBA aims to reduce its ecological impact and the generation of waste materials by replacing spraying as far as possible with a more effective powder coating process.
Environmentally friendly design for the B40 to B70:
The pump casing will now be powder coated as standard
The motor keeps the factory colour of the supplier
All new deliveries will have hot-dip galvanized inspection covers
A clever modification to the packaging material ensures that the steel motor plate, previously used to prevent transport damage is no longer required
Cost savings passed on to the end user
"In many cases these changes have a positive impact on the costs", explains Roland Berns, CEO of BBA Group. "The recommended retail prices will be recalculated for each model. For the main models we can report some savings in cost which we will of course pass on to the end user."