AxFlow Introduces Universal Centrifugal Pumps
AxFlow, distributors of the world renowned and original Waukesha external circumferential piston pump have added the new range of Waukesha Universal Centrifugal pumps to their product portfolio.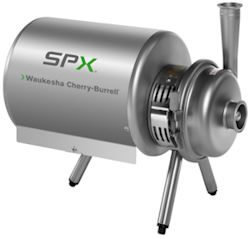 Universal Centrifugal pumps from Waukesha Cherry-Burrell (Image: AxFlow)
With seventeen model available, giving capacities of up to 800m³/h and differential pressures of 15 bar, these high quality centrifugal pumps have been developed for sanitary applications within the food, beverage and pharmaceutical industries.
The hydraulic design with spiral volute positioned in the back plat, advanced impeller design, extended outlets and heavy wall thickness pump casing ensure maximum efficiency with low noise and vibration. The specially design shaft seal where, for example, the stationary spring seal is located outside the product content area, makes these pumps ideally suited to handling a wide variety of food, beverage and pharmaceutical products. The sanitary design features fully CIP and SIP capabilities with 3A and EHEDG certification.
AxFlow say that the Waukesha Universal Centrifugal series follows the tradition of quality, reliability and ease of maintenance associated with Waukesha positive displacement pumps and fills a distinct niche in the sanitary, high efficient centrifugal pump sector.
All fluid handling equipment from AxFlow is made available with a range of support services extending from presales consultancy and systems design, through installation, commissioning, servicing, repairs and training.