AxFlow Creates 'Clean Room' for Hygienic Pump Maintenance
AxFlow UK has created a clean room facility at its Huddersfield-based maintenance facility for the service and repair of pumps for hygienic applications.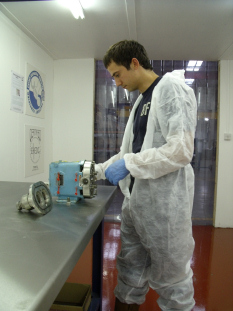 AxFlow's new clean room facility. (Photo: AXFlow UK)
The clean room has been designed and equipped under the guidance of process engineers from one of Europe's leading chocolate and confectionery producers and is fully compliant with EHEDG requirements.
The introduction of the clean room is the latest addition to the range of services available from AxFlow's maintenance facility in Huddersfield. According to AxFlow's Service Base Manager Tom Cooper, every effort has been made to ensure that the requirements of its customers in the food industry have been addressed. The room is fitted with a clean air supply with Grade I air filter for static pressure testing and a specialist lifting rig.
"Having a clean room facility for undertaking the cleaning of pumps and their final build has been on the agenda for some time," says Tom Cooper. "It is a facility that several prospective customers had requested, so in order to capitalise on this business opportunity we requested the assistance of process engineers from one of Europe's leading confectionery manufacturers to advise us on the design and fitting out of the room. Their hands on support throughout the whole project was greatly appreciated and as a result, we have secured aspects of their pump maintenance work."
In the food and beverage industries it is a basic requirement pumps must be compliant with EHEDG, FDA and 3A regulations. When taken out of service for general maintenance, replacement of worn components and repair, the same regulations apply to the work undertaken and the testing prior to service re-entry. For those food processing companies that do not have a pump maintenance resource in house, or are unable to go back to the original equipment supplier when maintenance and repairs are needed, the facilities of a company such as those now available from AxFlow are of great significance.