Aussie Ultralites to the Rescue
With the summer of 2019-20 looking like the worst fire season in living memory, Aussie Pumps has pulled out all stops to dramatically increase production as home owners on the "URBAN-INTERFACE" gear up to protect their lives and properties.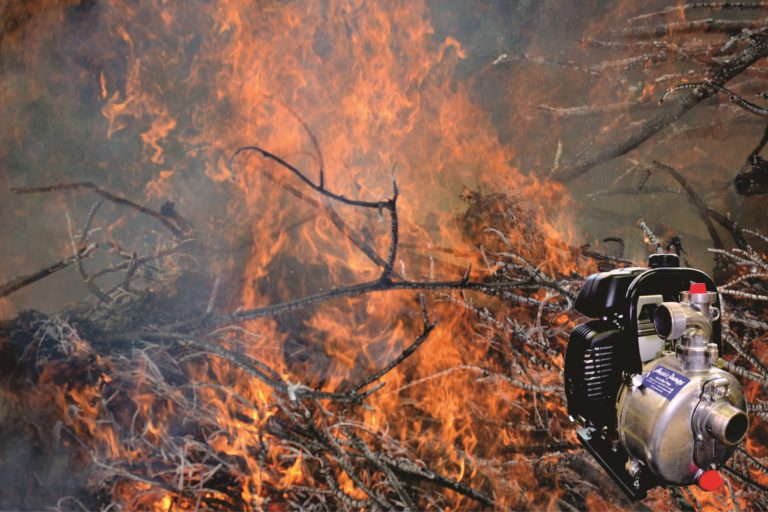 A small package with a big performance, Aussie's QP154SX pump, is a must for home preparation. (Image source: Aussie Pumps)
One variation on the traditional firefighting equipment is the demand for light-weight high pressure pumps.
The Aussie model QP154SX lightweight self-priming pump is a small package with big performance. The pump weighs only 9.2kgs but, is capable of flows up to 210 lpm and head of up to 60m, translating to roughly 80psi!
These great little light-weight pumps are powered by a Honda 4 stroke petrol engine that runs on standard unleaded gasoline! Like all Honda engines, the Aussie Ultralite runs smooth and is very easy to start, first pull!
The pump has other features that make it unique in terms of its performance. It will self-prime and draw water from a vertical lift of up to 8m! A centre-mounted handle makes it easy to carry and it is mounted on steel skids with anti-vibration mounts. They also come with free coupling kit and strainer!
The Aussie QP154SX includes a coupling reducer kit, that enables the 1½" discharge port to be reduces to 1". "Many home owners or even professional fire fighters sometimes use either a 20mm or 25mm diameter discharge hose with firefighting nozzles. Adapting our 1½" pump to that smaller size hose and nozzle kit is dead easy," said Aussie Pumps Chief Engineer, John Hales.
We know that firefighting authorities around the country are all studying how to reduce the size of lightweight slip on style firefighting kits and we can see this is a big opportunity to help home owners, particularly in built up urban areas.
"One customer in Sydney's leafy North Shore recently sent us a video of a QP154 hooked up to his swimming pool, located right behind his house. What he demonstrates is the ability of the pump to throw a jet of water right over the house with its pressure and flow from the pool. It could even reach quite high in the trees surrounding the house although, we never suggest that this is a "knock-down" high pressure firefighting pump." Said Hales. "It can however be a valuable aid for preparation against fire, wetting down surfaces before the fire hits and putting out any spot fires."
Further information on Aussie's expanded range of high pressure fire pumps is available on our website and is also covered by their free Fire Survival Guide. The Survival Guide is an indispensable aid for home owners and even professional fire fighters!
"Many firefighting brigades around the country are handing out the Aussie Fire Survival Guide to people who live in the Urban-Interface." Said Hales. The urban interface covers areas around large built up areas, even Australia's major cities, where people choose to live in the bushland setting.