Auma Supplies 10,000 Gearboxes to Chinese CSP Plant
Auma has supplied 10,000 multi-turn gearboxes to the Supcon Delingha concentrated solar power (CSP) plant in the province of Qinghai, north-west China.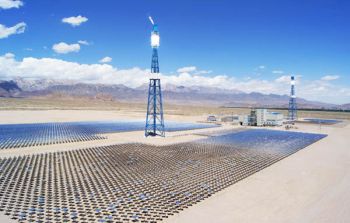 Auma supplies 10,000 gearboxes for the Supcon Delingha concentrated solar power plant in China (Image: Auma)
The 50 MW plant, which is currently under construction, uses thousands of heliostats to focus sunlight onto a collector on a "power tower" 180 meters high. The plant is expected to produce 136,000 MWh of electricity per year. Supcon Solar, the plant owner, is a subsidiary of Chinese automation giant Supcon.
Auma's scope of delivery includes high-precision gearboxes for the dual-axis solar trackers that allow the heliostats to follow the motion of the sun during the day. The Auma multi-turn (360°) gearboxes will handle the horizontal movement of the heliostats. Accuracy is critical, since the reflected sunlight must be focused accurately onto the relatively small collector in the power tower, at ranges of up to 1 km.
The order follows a successful test phase with 1,000 Auma gearboxes in a 10 MW demonstration plant on the same site. Supcon Solar was fully satisfied with the performance and quality of the Auma gearboxes supplied for that project. Since the plant was commissioned in 2015, the gearboxes have provided accurate and repeatable positioning while being entirely maintenance-free.
Auma has developed special slewing gearboxes to meet the challenging requirements of CSP applications. Thanks to careful material selection and high-precision manufacturing, the gearboxes are virtually free from backlash and have high stiffness to resist mechanical loads. They are also extremely resistant to wear, and require no lubrication once in service. With an expected maintenance-free lifetime of more than 25 years, the gearboxes maximize plant efficiency and availability at minimum labor cost.
Auma has been involved in numerous major CSP projects in recent years. One of these is the Ivanpah Solar Electric Generating System, California, USA, whose nameplate capacity of 392 MW makes it the world's largest CSP plant. Auma delivered 78,000 gearboxes to the Ivanpah project.