CEO Anders Frimodt-Møller Celebrates 25 Years at IRON
Anders Frimodt-Møller the CEO of IRON Pump celebrated his 25th anniversary. Anders joined IRON Pump in 1998 as Head of Technology and Development and has since held the titles of Production Manager and Technical Director, before taking over the company's full management responsibility as CEO of IRON Pump in 2004.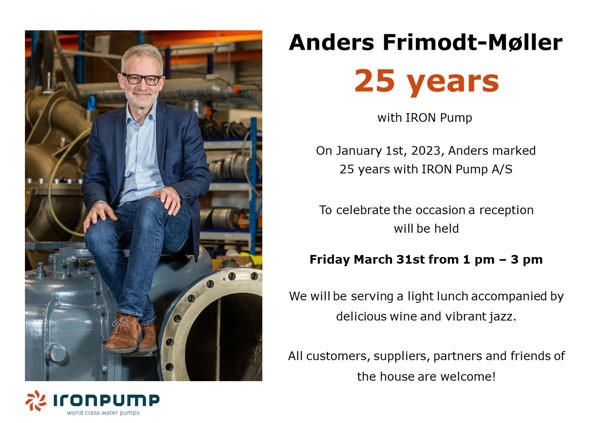 (Image source: IRON Pump A/S)
Since then, IRON Pump has undergone a significant transformation, with a global objective and a relentlessly sharp focus on the high quality that IRON Pump is so known for. With this focus, IRON Pump was ISO 9001 Quality Management System certified in 2012.
Early on, Anders chose to follow a green agenda, and for more than 20 years IRON Pump has worked actively to continuously reduce its environmental impact, which is as well documented in IRON Pump's annual Green Report. The uncompromising mindset includes IRON Pump's products and in 2008 IRON Pump introduced its ECO pump series which is material and energy-efficient optimized. In recent years the company has worked resolutely to further develop energy-efficient pumps for both marine and land-based industries.
IRON Pump saw early on how the market for maritime pumps would move from Europe to Asia and therefore established a representative office in Shanghai in 2009. It was a good decision, as the market for pumps for the marine industry in China has grown significantly. Today it is a large part of IRON pump's business.
Anders' heart has beat for the company's employees throughout, and he focuses on a good working environment, employee involvement and mutual trust. It was also on Anders' watch as Production Manager that IRON Pump first became ISO 14001 Occupational Health and Safety certified in 2000. Finally, Anders does not waste a chance to celebrate with employees when something special succeeds.