Armstrong's Pump Manager Detects and Reports Cavitation
Armstrong Fluid Technology's has announced the availability of an innovative new capability on Pump Manager, an Active Performance Management Service, that can detect and alert building managers about impending pump cavitation.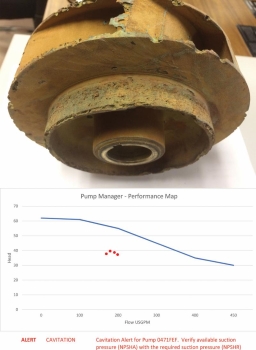 Cavitation Alert (Image: Armstrong Fluid Technology)
Effective immediately, Design Envelope pumps will have the capability to detect cavitation and deliver an alert to a previously established contact.
Cavitation is a serious issue that affects pumps in many applications. The ability of Design Envelope pumps to detect cavitation and provide an alert will limit the energy losses and equipment damage the cavitation can cause.
Commenting on the new capability, Pratik Sharma, Global Director, Building Services & Performance Management, stated "Our ability to detect and report cavitation is an important advancement that will help customers all over the world with what is a very common and costly problem in fluid flow systems."
The new feature that detects cavitation is now standard on all Armstrong Design Envelope pumps.