ANSI/HI Pump Standards 4.2 Version Now Available
This new and comprehensive version is comprised of 35 standards, of which 5 have been updated since the release of Version 4.0 in 2017.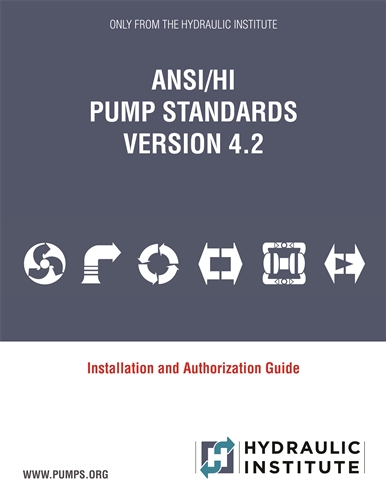 Image Source: Hydraulic Institute
The electronic version of the standards, available as an immediate download, allows a user to easily navigate directly to the section or reference you need with links from the index of each standard. The ANSI/HI Pump Standards in electronic format are a single-user version and are encrypted for security purposes.
New/updated documents of the new version:

Reciprocating Power Pumps for Nomenclature, Definitions, Application, and Operation – 2015
Reciprocating Pump Tests – 2015
Direct Acting (Steam) Pumps for Nomenclature, Definitions, Application, and Operation – 2015
Rotary Pumps – Guidelines for Condition Monitoring – 2018
Rotodynamic Pumps for Nomenclature and Definitions - 2019
Rotodynamic Pumps for Design and Application - 2019
Rotodynamic Pumps — for Installation, Operation, and Maintenance - 2018